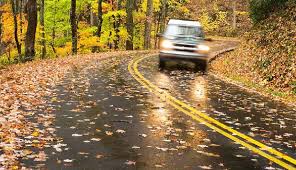 One of the most enjoyable seasons is upon us. The fall season is the start of the busiest, festive time of the year. Along with the fun holiday times, the weather begins to change from hot, sunny days to cold, rainy days; thus, the weather has a great impact on driving conditions. As the seasons change, many drivers fail to take precautions to maneuver throughout the roads. Statistics show that there is a 15% increase in automobile accidents due to the weather change. It is important for drivers to take extra precautions to avoid an accident especially if it causes stress for an individual during the holiday time.
What dangers develop as the season changes?
• Rain. The fall introduces more rain in the forecast, which means wet roads have an impact on tires and if the tires are not able to handle the slippery roads it increases one's chance to cause an accident. If the weather permits heavy rainfall for a day or more, it can create one to hydroplane. Hydroplaning can happen if one is driving as low as 30 mph on the road. When a situation like this occurs, it can be hard to brake of steer the car.