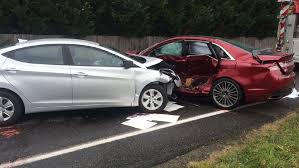 The National Transportation Highway Safety Administration has done research consisting of side impact collisions also most commonly known as T-bone collisions. They concluded about 13% of collisions in the United States involve a T-bone collision. Out of the 13%, 8,000 people are killed annually. These types of collisions are deadly because of the impact it has on the passengers. Since children sit in the back seat of a car, T-bone crashes are the deadliest for them.
What are T-bone accidents and why are they so dangerous?
T-bone accidents involve a car being hit on one side of the car by the front end of another vehicle. T-bone accidents are so deadly because depending on the force of the impact, it could lead the vehicle to collide with other vehicles or surrounding objects. If further collisions occur, it increases the likelihood of the passengers suffering sever injuries. For example, the Dallas Morning News reported a collision that happened late this July. The crash happened a half hour past midnight on Interstate 35. The deceased person's vehicle struck a wall and was disabled. Another vehicle going northbound on the highway t-boned her car, which ejected the lady into a lane of traffic. She was pronounced dead at the scene.