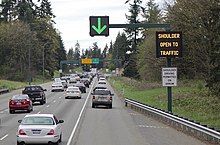 Am I allowed to drive on the shoulder of a highway?
If this question has not been directly asked, it has come up on one's mind as they are waiting in traffic or if they see other drivers do it. This is the case if the driver is new to Texas and they are unsure what the law is. To answer this question, the answer is yes. However, there are only certain situations in which you can do this. The Texas Transportation Code describes these situations in section 545.048.
§545.048 – DRIVING ON IMPROVED SHOULDER
(a) An operator may drive on an improved shoulder to the right of the main traveled portion of a roadway if that operation is necessary and may be done safely, but only:
(1) to stop, stand, or park
(2) to accelerate before entering the main traveled lane of traffic;
(3) to decelerate before making a right turn;
(4) to pass another vehicle that is slowing or stopped on the main traveled portion of the highway, disabled, or preparing to make a left turn;
(5) to allow another vehicle traveling faster to pass;
(6) as permitted or required by an official traffic control device; or
(7) to avoid a collision
Section (a)(5) can easily be misinterpreted. "To allow another vehicle traveling faster to pass" does not mean a driver can drive on the shoulder to overtake another moving vehicle. In other words, if the vehicle you are driving behind will not let you pass them, then legally you can only use the left lane to pass the car.
Another section that raises questions is section (a)(4). This section relates to situations in which a driver wants to pass a long line of traffic to turn right onto another road. Based on the plain meaning of the words, section (a)(4) does permit a driver to use the shoulder lane. However, the phrase "if that operation is necessary" plays a large role when evaluating the driver's decision to use the shoulder lane. The Code does not specifically define this phrase, but there is Texas case law on the matter. In 2012, the criminal court of appeals addressed this issue in a case called Lothrop v. The State of Texas. Here, the court ruled that "necessary" would be taken in context of the seven permissible ways listed in the statute to use the shoulder lane.
Overall, the statute and caselaw seem to be in favor of using the shoulder lane. However, officers may use this violation to issue a citation. As a result of these two conflicting views, there is a lot of gray area in some jurisdictions.
If you have been stopped for a citation due to this violation or if it is a material fact of your case, it is crucial to contact a skilled attorney like Eric Reyes to represent you. Eric Reyes has been a practicing attorney in the area of personal injury for 30 years. His litigation team has been with him for 20+ years, so he and his team work well and efficiently to get a result for the case. Throughout his time focusing on personal injury law, he has met the requirements to be a Board Certified Attorney in Personal Injury Trial Law and Civil Law. His knowledge of personal injury can help you determine the best way to resolve your matter. Please give our office a call at (817) 332-1522 for further information.