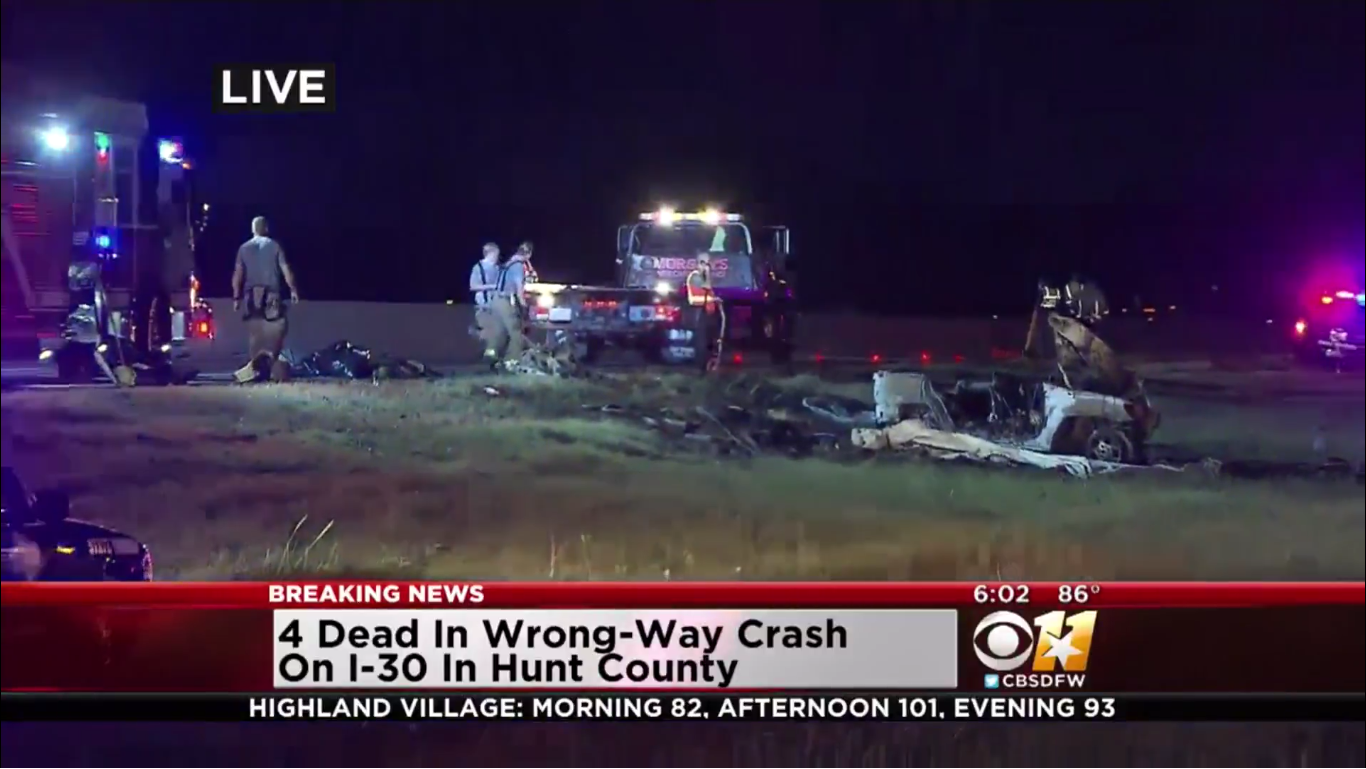 Statistics have show time and time again that highways are far safer per mile than other routes, due in no small part to the lack of intersecting traffic. Indeed, a great number of collisions on highways and interstates involve only a small difference in speed; as long as other drivers are cautious, these accidents are often less severe than those that occur on urban and suburban streets. The speeds involved in interstate driving are only and tragically realized when lost, exhausted, or intoxicated drivers fail to notice a number of warning signs and pull into a highway headed the wrong direction. In these cases, collisions occur at the equivalent of well over 120 miles per hour, and the crumple zones and safety cages that are designed for impacts at 80 MPH and below can fail catastrophically.
Just this week, with several DWIs on his record , wrong way driver Ricardo Martinez was found guilty in the deaths of a local mother and her two children earlier this year. Martinez, who's blood-alcohol content of  .20 was well over the legal limit, was driving the wrong way on Highway 67 in Alvarado when his car collided with the northbound car of 22 year-old Miranda Abshire. While Martinez and Abshire's young sister survived the crash, both Abshire and her two sons were declared dead at the scene of the accident. The incident occurred a mere half-mile from the victims house.
Earlier this month, yet another late night wrong-way collision occurred out on I30 near Hunt County. While the drivers have yet to be identified, preliminary reports state that the negligent driver was alone in a large sedan at approximately 1:50 a.m. when he struck a sports utility vehicle carrying five teenagers. Like the Abshires, the driver of the sedan, as well as three of the teenagers, were declared dead at the scene of the accident. Of the remaining two SUV passengers, one was airlifted to Dallas' Parkland Hospital in critical condition, and the other was taken by ambulance to Hunt Regional Medical Center.
It can be easy to assume that these types of accidents occur mostly or exclusively late at night, when exhausted and intoxicated drivers are most likely to be driving, and warning signage and traffic is far less visible. However, just this past July at 11 a.m,  a Chevrolet pickup truck headed the wrong way on Interstate 45 collided with a Nissan SUV carrying a mother, father and their six children, none of which were in booster seats or wearing seat belts. Both drivers died shortly after the impact as did one of the children, who was ejected from the vehicle. In a somewhat remarkable turn of events, although some arrived at Dallas hospitals in serious condition, the other five children survived the accident, despite being unsecured in the vehicle. At the risk of stating the obvious, ensuring that the driver and passengers wear the seat belts provided is absolutely critical to safety in the event of an accident. It has been said that seatbelts prevent more injuries than airbags and all other safety devices combined. Furthermore, as Texas is one of many states that follows the "modified comparative negligence rule," your settlement may be reduced substantially in the event that jury decides that your injuries were due in part to neglecting to properly wear a seatbelt.
To protect your claim against any negligent parties, it is important to speak to an experienced attorney as soon as possible.  We can answer your questions and immediately begin documenting the injuries and damages sustained in the accident.The earlier the legal representation is engaged, the better the chances of properly documenting and protecting the claim. If you have any questions regarding what your rights are if you are involved in a motor vehicle or any other accident in North Texas.