A lawsuit was filed on November 14, 2013 in Galveston District Court by bicyclist Jennifer Gorberg against automobile driver Jade Puckett for broken bones suffered in an accident with a motor vehicle driver.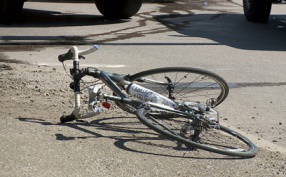 Both parties are residents of League City, Texas, where the accident occurred on October 28, 2013.  While riding her bicycle, Plaintiff Gorberg entered the intersection of West League City Parkway and Westover Park Avenue. Defendant Puckett, according to Plaintiff's pleadings, "failed to yield the right-of-way" and struck Plaintiff Gorberg as she was bicycling through the intersection. The lawsuit alleges that Plaintiff Gorberg suffered broken bones which required surgical intervention.
In her pleadings, Plaintiff Gorberg alleges that Defendant Puckett was negligent for:
Failing to maintain a proper lookout;
Driving without paying enough attention;
Failing to timely apply the brakes to avoid a collision; and
Failing to control her speed.
Plaintiff bicyclist Gorberg has pled that she had the right-of-way through the intersection and that Defendant driver Puckett had the traffic signal stop sign.  According to Plaintiff's pleadings, after stopping at the intersection stop sign, Defendant driver Puckett unsafely proceeded into the intersection striking the Plaintiff cyclist causing serious injury.  Plaintiff alleges that Defendant initially stopped at the stop sign but failed to proceed when it was safe to do so.   Plaintiff pleads that she had the right of way with no stop sign as she traveled through the intersection and the Defendant driver failed to enter the intersection when it was safe to do so.
According to Texas Transportation Code, Title 7, Subtitle C, §551.101, bicyclists have the same rights and duties of other vehicle operators:
(a) A person operating a bicycle has the rights and duties applicable to a driver operating a vehicle under this subtitle, unless:
(1) a provision of this chapter alters a right or duty; or
(2) a right or duty applicable to a driver operating a vehicle cannot by its nature apply to a person operating a bicycle.
Plaintiff Gorberg suffered serious injuries from the impact with Defendant's vehicle requiring surgery and she is asking for unspecified monetary damages from Defendant driver.
The Reyes Law Firm represents bicyclists who have been injured as a result of another's negligence.  Our office has successfully negotiated and litigated a wide variety of claims involving bicyclists:
Vehicle and cyclist accident;
Cyclist and dog attack; and
Cyclist and dangerous road conditions.
Eric Reyes has been cycling himself for over 20 years and has personal experience relating to cycling hazards which can result in injury.  The Reyes Law Firm will fight for you when you have been injured through the negligence of others.
Additional Sources:
Bicyclist insists wreck left her with broken bones, The Southeast Texas Record, November 18, 2013