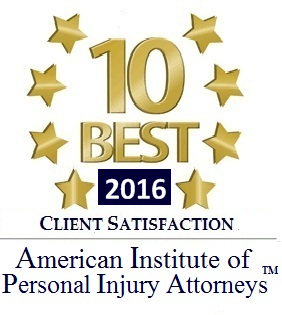 On May 10, 2016, Eric Reyes was nominated by the American Institute of Legal Counsel as one of the "Top 10" attorneys in personal injury in the state of Texas for 2016.  This award celebrates the attorney accomplishing the highest degree of professional achievement in his field of law and an impeccable client satisfaction rating.
Consumers seeking legal representation are often at the mercy of the attorney's self-serving statements in websites and other forms of advertisements.   Attorneys that have been recognized by an impartial third party organizations based on the  attorneys documented excellence in their field of law,  helps the consumer find the appropriate lawyer for their problem.
The American Institute of Legal Counsel  is an impartial third party attorney rating organization consisting of six departments from criminal, DWI, personal injury, family law and litigation, lawsuits and disputes.  This attorney rating organization concentrates on recognizing attorneys that have achieved the highest degree of professional achievement in their field of law and the attorney's success in client satisfaction.  Membership in this organization is an exclusive honor that only few attorneys achieve and enjoy.
Injured victims in the Fort Worth, Arlington and Dallas area can rest assure that the Eric Reyes Law Firm will provide ethical and zealous representation regarding  their injury claim against an insurance company or responsible third party.